Tree Removal Calculator
NOW GET QUICK QUOTE ONLINE
How much a Palm or Damas removal costs in UAE? What if you want to relocate trees? Now calculate costs yourself for on the spot quote.
Click to Calculate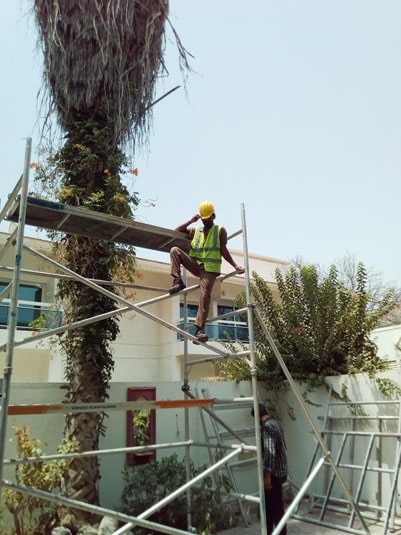 Tree Removal
We are specialized in Damas and Palm tree removal. We have dealt with one of the biggest trees here in Dubai. No matter how big and tricky a tree is, we know how to cut it with safety. Our tree removal experts give the best advice and deliver the level of skill that is hard to match.
We have dealt with some of the oldest and biggest trees in Jumairah, Umm Suqeim, Springs, Meadows, Emirates Hills, Arabian Ranches, Mirdif and some other communities and areas in Dubai as well as in Abu Dhabi.
Our prices for trees cutting include junk/green waste collection. We dispose it then in municipality approved locations.
How much a tree cutting costs?
There are many factors which add to the cost of a tree removal job. Some trees are very tricky, dangerous and costly to cut. But typically a tree cutting job starts from 500 AED. Stump removal costs some extra money as well.
Can you cut all types of trees?
No. Not all trees can be cut in UAE. Especially if it is Ghaf tree or Acacia. The have been declared national trees in UAE. Hence, cutting them invites legal action and fines.
Is it good to cut Damas trees?
Yes. Everybody knows about menace of Damas trees in UAE. Their roots go deep into sewers, block drains, tear apart floors and damage infrastructure. If you have Damas trees in your property, probably you are already in trouble. That is why you are on this page. Sooner you remove them, the better.
What about the stumps?
We remove trees stumps or do a chemical treatment of them so that they can't grow back. Normally this is the case with Damas trees. Since their roots are often deep under the structure, it s not possible to completely remove them without breaking the structure. Hence, there is a handy solution to do a chemical treatment of tree stumps to prevent their further growth.
Is your tree removal calculator accurate?
Our tree removal cost calculator is 70% – 90% accurate. It is intended to give you an initial and quick estimate online. Final quotation depends on various factors including the location of the tree itself and adjacent structures. We can give you final estimates after visiting the site or seeing the photographs.