Complete Football Fields
We develop football fields with artificial and natural grass, supply and installation of all materials, from scratch right up to delivery. Following processes are included:
`✅ Grading, Leveling and Sand Filling
`✅Supply and Installation of Grass
`✅ Sprinkler based or water gun based irrigation
`✅ Water Tank
`✅ Goal Posts
`✅ Line marking
`✅ Maintenance of the field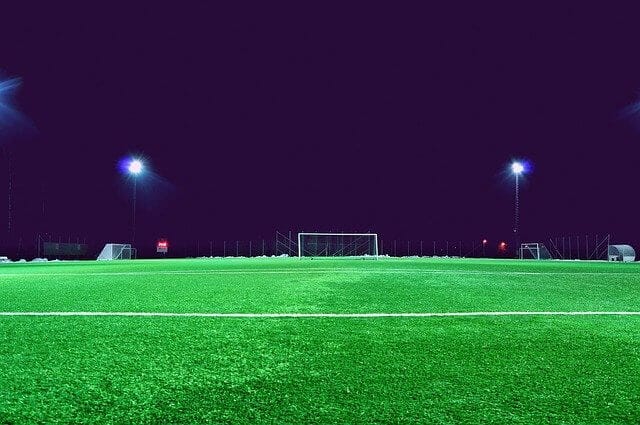 We Build Fields with FIFA Approved Turf
COMPLETE SUPPLY AND INSTALLATION
Package Includes road base preparation, survey, grading, leveling, Silica sand & SBR rubber infill.
Why Artificial Grass?
Low-cost Maintenance
Most clubs are now opting for artificial grass to reap the benifits of low-cost maintenance, longer life-spans of the fields and cut water and electricity bills. Our supplied artificial astro turf has longer lifetime then the most out there with double advantage over natural grass. It can maximize the fields lifetime from 1200-1500 hours after matches.
What You Get?
Detailed Specifications 
When you appoint us as contractors for a sports field, you get a full package of services, which include:
Silica sand and SBR rubber infill
50-60mm height, 7 years warranty
Grading, leveling and compacting of the field
Road base for grass installation

About Our Installation Service
When we install artificial sports turf, you get a satisfaction that it is FIFA approved, matching international standards and the same level of service and quality. The grass comes with 5-7 years of warranty. Our installation is a professionally accomplished project in itself, because it involves various processes which none other than a professionally experienced company can do; and we are the best choice you got in good budget!
Chain Link Mesh Fencing
We supply and install chain link fencing for sports fields.
Fencing may be 2 meters to 4 meters high, constructed from class B G.I pipe, galvenized, polyurethane coated corrosions, with RAL 6005 color protection.
We do concerete foundations, excavation and backfilling to fix posts in UPVC pipes.
Why Fencing from Us?
Fencing is essential for the most football fields, without which the gameplay can not be imagined in most cases.
When we do the fencing for your field, you have a satisfaction that the work is done professionaly with our experience of more than a dozen sports fields in past few years throughout UAE.
We know the hack of it, whether it is chain link fencing or welded fencing. It always goes like a charm.
Why Not Get Fancy with Fencing?
Prices Start From AED 190/SQM
Supply and Installation of fencing with foundations and all the civil work!
Let's Build Your Dream Garden Together
Green Pastures was founded for the passion for landscaping, for creating those dreamy green orchids, fairy meadwos and gardens of adens, a human can imagine. That's its mission, vision andd objective – creating dream gardens for you. Let's build one if you also share the same dream!